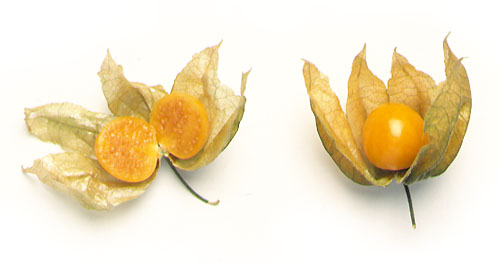 Winter cherry
(Physalis peruviana)
Fruit with a bladder-shaped calyx and with a corolla or ten very marked ribs which contain a small, round, smooth orange berry. It has a pleasant, slightly acidic flavour.
Forced growing in greenhouses

Preservation in cooling chambers

Product from several sources

Contrasting product (from the southern hemisphere)
Catalan: Bufeta de Gos
Spanish: Alquequenje
English: Winter cherry
Commercial: Tropical fruit
Scientific: Solanàcia
73 calories per cada 100 grams
The tree it grows on and its curiosities
Winter cherry tree
Occasionally found cultivated in all tropical and sub-tropical zones of the planet, especially in Central America, the winter cherry is perfectly aclimatised to some southern European countries (France, Spain, Italy, etc.), and even grows wild in some areas, becoming an invasive plant due to the ease with which it disseminates its seed.