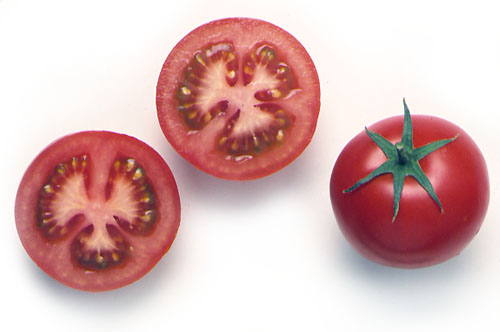 Tomato
(Lycopersicum esculentum)
a spherical fruit, sometimes lengthened, depending on the variety, and green or red in colour. The pulp is red and contains many seeds. Its taste may be acidic or sweet, also depending on the variety.
Forced growing in greenhouses

Preservation in cooling chambers

Product from several sources

Contrasting product (from the southern hemisphere)
Catalan: Tomàquet
Spanish: Tomate
English: Tomato
Commercial: Garden produce fruit
Scientific: Solanàcia
22 calories per cada 100 grams
Grams which make up a serving
The tree it grows on and its curiosities
Tomato plant
The leading tomato producers are China, the United States, Turkey, Egypt and Italy. In Spain it is grown in Murcia, Almeria, Las Palmas, Valencia, Alicante, Malaga, Santa Cruz de Tenerife, Cadiz, Barcelona, and Granada.