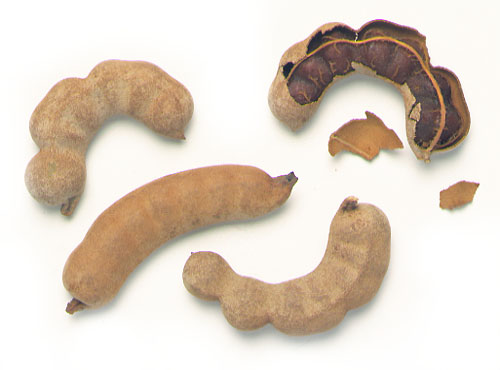 Tamarind
(Tamarindus indica)
a leguminous plant, cylindrical in shape (like a large peanut). The pod and the seeds are not used in cooking. Its bittersweet pulp is a tasty spice. The tamarind's pulp can be found with or without seeds, and is generally sugared, due to its high acidity.
Forced growing in greenhouses

Preservation in cooling chambers

Product from several sources

Contrasting product (from the southern hemisphere)
Catalan: Tamarinde
Spanish: Tamarindo
English: Tamarind
Commercial: Tropical fruit
Scientific: Lleguminosa
240 calories per cada 100 grams
The tree it grows on and its curiosities
It is currently a relatively important crop for almost all the warm countries in Africa, Asia and America. The main producer is India, followed by other countries such as the Philippines, Brazil, Ecuador and Mexico.