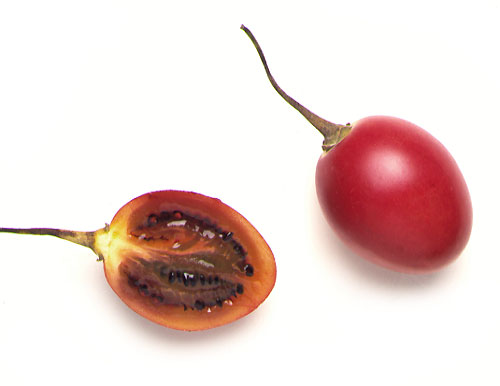 Tamarillo
(Cyphomandra betacea)
a fruit which is firm on the outside and is covered with a fine shiny skin, and inside has a gelatinous pulp with numerous seeds. Its colour varies from orange to reddish-purple, but there are also yellow varieties.
Forced growing in greenhouses

Preservation in cooling chambers

Product from several sources

Contrasting product (from the southern hemisphere)
Catalan: Tamarillo
Spanish: Tamarilla
English: Tamarillo
Commercial: Tropical fruit
Scientific: Solanàcia
56 calories per cada 100 grams
The tree it grows on and its curiosities
It is only grown intensively in New Zealand, although trials are being carried out in the United States, Italy and Spain (the Canary Islands and the Mediterranean coast).