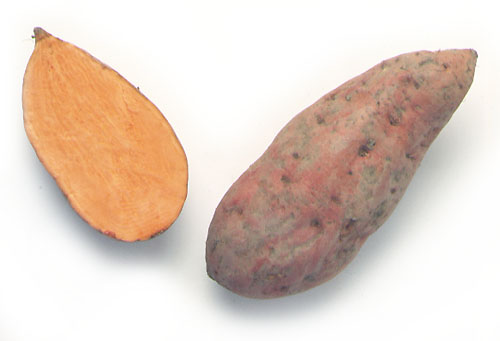 Sweet potato; Kumara
(Ipomea batatas)
The sweet potato or yam is a tuber root, similar to the potato. It has an irregular shape, hard, greyish-brown skin and white or orange flesh. The texture is floury, soft and sugary.
Forced growing in greenhouses

Preservation in cooling chambers

Product from several sources

Contrasting product (from the southern hemisphere)
Catalan: Batata
Spanish: Batata; Boniato
English: Sweet potato; Kumara
Commercial: Tubercle
Scientific: Convolvulàcia
152 calories per cada 100 grams
Grams which make up a serving
The tree it grows on and its curiosities
Moniato
The main growing countries are China, Uganda, Indonesia, Vietnam and Nigeria.