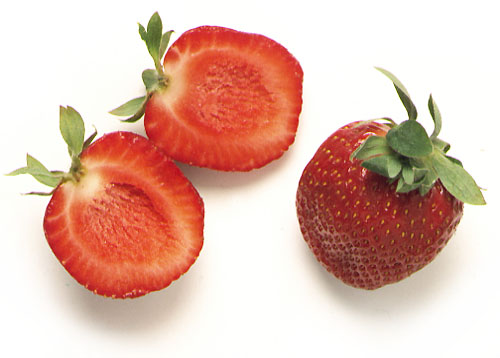 Strawberry
(Fragaria x ananassa)
A small fruit, with a bright red granulated skin. The pulp is strongly aromatic. Its maximum diameter is around 20 mm. In the same family, there is also a bigger strawberry, which does not have as intense a flavour or aroma.
Forced growing in greenhouses

Preservation in cooling chambers

Product from several sources

Contrasting product (from the southern hemisphere)
Catalan: Maduixa i Maduixot
Spanish: Fresa
English: Strawberry
Commercial: Small fruit
Scientific: Rosàcia
Camarosa, Fortuna, Festival, Sabrina
40 calories per cada 100 grams
Grams which make up a serving
The tree it grows on and its curiosities
Strawberry plant
The leading strawberry producing countries are the United States, Poland, Spain (Huelva, Valencia, Barcelona, Malaga, Pontevedra, La Coruña, Salamanca, the Balearic Islands, Girona), Japan, Italy, Russia and France.