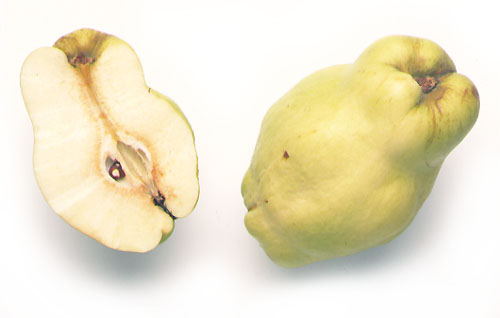 Quince
(Cydonia oblonga)
Fruit of the apple and pear family, but bigger. The skin colour is greenish yellow, very smooth. In some varieties it is very smooth and shiny, but hairy to the touch in others. The flesh is fairly compact, hard, floury, not very juicy, of a creamy white colour and with a very sour taste that makes it inedible raw.
Forced growing in greenhouses

Preservation in cooling chambers

Product from several sources

Contrasting product (from the southern hemisphere)
Catalan: Codony
Spanish: Membrillo
English: Quince
Commercial: Seeded fruit
Scientific: Rosàcia
33 calories per cada 100 grams
Grams which make up a serving
150-200 grams (una peça mitjana)
The tree it grows on and its curiosities
Quince tree
Nowadays, the quince is cultivated in all warm areas of Europe, Africa and Asia, and is also common in the United States and Sudan.