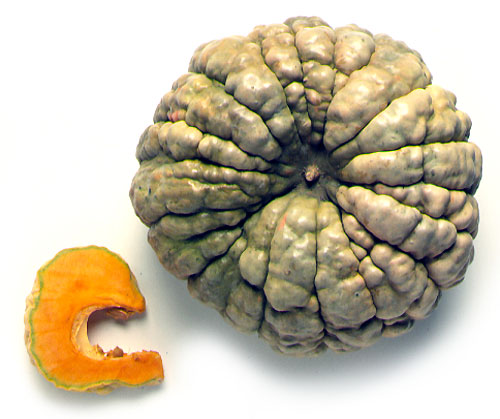 Pumkin
(Cucurbita pepo)
Voluminous berry with thick skin that takes different forms according to variety. The flesh is meaty and full of seeds. The pumpkin is green, yellow, orange, or white and a combination of all of these colours decorate its skin. It can take the form of an enlogated or rounded bottle, be smooth or rough.
Forced growing in greenhouses

Preservation in cooling chambers

Product from several sources

Contrasting product (from the southern hemisphere)
Catalan: Carbassa
Spanish: Calabaza
English: Pumkin
Commercial: Garden produce fruit
Scientific: Cucurbitàcia
24 calories per cada 100 grams
Grams which make up a serving
The tree it grows on and its curiosities
Pumpkin
The main growers of pumpkin are India, China and Ukraine. In Spain it is cultivated in Almeria, Múrcia, Málaga, Alicante, Barcelona, Cádiz, Santa Cruz de Tenerife, Granada, Valencia.