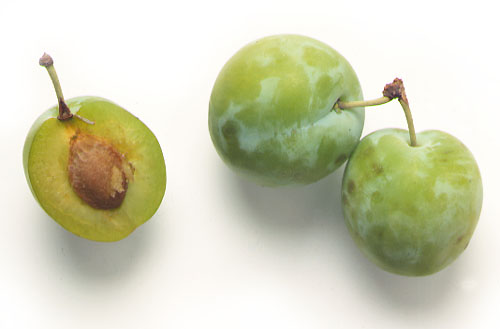 Plum; Prune
(Prunus domestica)
a small fruit, spherical or oval in shape. Depending on the variety, the pulp may be green, yellow or reddish. This fruit has a stone.
Forced growing in greenhouses

Preservation in cooling chambers

Product from several sources

Contrasting product (from the southern hemisphere)
Catalan: Pruna
Spanish: Ciruela
English: Plum; Prune
Commercial: Pipped fruit
Scientific: Rosàcia
64 calories per cada 100 grams
Grams which make up a serving
The tree it grows on and its curiosities
Plum tree
The main plum-producing countries are Russia, the United States, China, Romania, Yugoslavia, Germany, Turkey, France, Spain (Murcia, Valencia, Zaragoza, Alicante, Barcelona, Malaga, Albacete, La Rioja, Cordoba and Granada) and Italy.