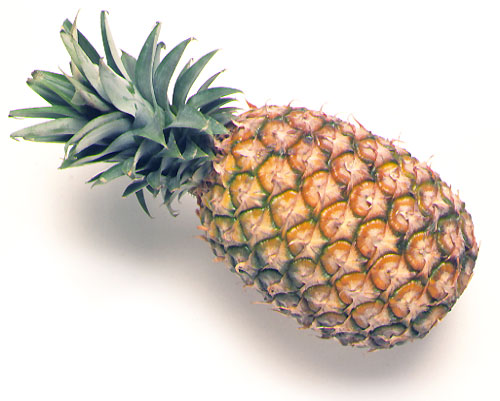 Pineapple
(Ananas comosus)
a fruit with a woody and highly aromatic skin. The flesh is yellow with a woody interior trunk that is not eaten. Its taste is very sweet and mildly acidic.
Forced growing in greenhouses

Preservation in cooling chambers

Product from several sources

Contrasting product (from the southern hemisphere)
Catalan: Pinya
Spanish: Piña
English: Pineapple
Commercial: Tropical fruit
Scientific: Bromilàcia
Pinya Baby (Abacaxi: Pernambucco, Perola, Sugar Loaf; Queen: Natal Queen, Ripley Queen, Smouth Cayenne, Z-Queen; Spanish: Red Spanish, Singapore Spanish), Pinya d'Índies (Smouth Cayenne)
53 calories per cada 100 grams
Grams which make up a serving
150-200 grams (dos talls)
The tree it grows on and its curiosities
Pineapple
The main pineapple producer is Thailand, followed at some distance by the Philippines, Brazil, China and India.