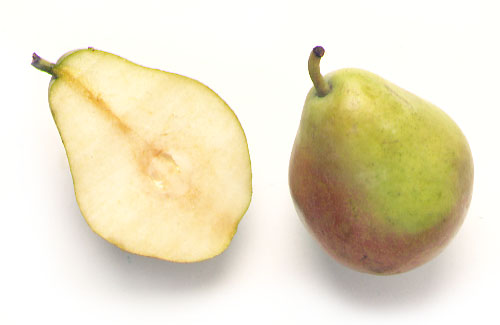 Pear
(Pyrus communis)
Bearing in mind that there are thousands of varieties of this fruit, which is grown around the world, this must be a general description. It can be said that the majority of pears are shaped very much like a bulb. The predominant skin colour is green, but it may also be yellow, brown or red, and the pulp is white. The pear's diameter is between 35 and 70 mm.
Forced growing in greenhouses

Preservation in cooling chambers

Product from several sources

Contrasting product (from the southern hemisphere)
Catalan: Pera
Spanish: Pera
English: Pear
Commercial: Seeded fruit
Scientific: Rosàcia
Abatte, Anjou Argent, Alejandrina, Barlet, Blanquilla, Canella, Carlet, Castells, Conference, De Comice, Delbar, Devoe, Duyene du Comice, Ercolini, Flor d'Hivern General Leclerc, Gran Champion, Kaiser, Llimonera, Magallona, Max Red Barlett, Moratini, Packam's, Passa Crassana, Premier, William's
61 calories per cada 100 grams
Grams which make up a serving
150-200 grams (una peça mitjana)
The tree it grows on and its curiosities
Pear tree
Today, it is a common fruit in all the world's temperate zones. The main producers of the pear are Italy, the United States, Spain (Lleida, Zaragoza, Huesca, Badajoz, Alicante, La Rioja, Valencia, Murcia, Castellón), Japan, Turkey, Germany, France, Argentina and South Africa.