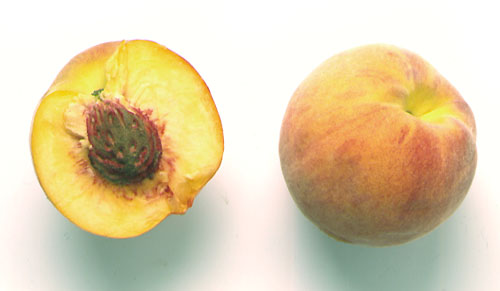 Peach
(Persica vulgaris)
a round fruit of various colours (red, pinkish, yellow or orangish). The skin of the peach feels like velvet. The pulp may be soft or hard, depending on the variety.
Forced growing in greenhouses

Preservation in cooling chambers

Product from several sources

Contrasting product (from the southern hemisphere)
Catalan: Préssec
Spanish: Melocotón
English: Peach
Commercial: Pipped fruit
Scientific: Rosàcia
52 calories per cada 100 grams
Grams which make up a serving
The tree it grows on and its curiosities
Peach tree
The main areas of production are the United States, Italy, Spain (Murcia, Lleida, Huesca, Zaragoza, Valencia, Seville, Tarragona, Barcelona and La Rioja), China, France, Russia, Japan, Argentina, Australia and Germany.