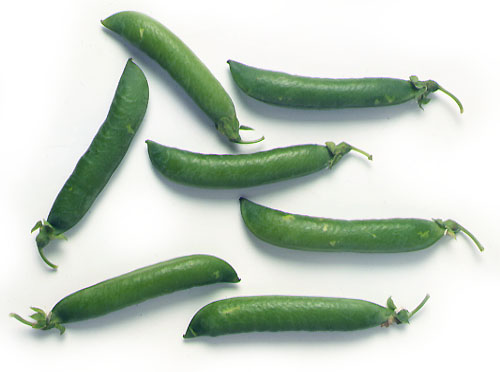 Pea
(Pisum sativum)
a green pod with 7 or nine small seeds inside. As well as peas cultivated for the consumption of their seeds (which are small, tender and sweet), there is another variety called the sugar pea, which has very small seeds, but also has a tender and exquisite pod.
Forced growing in greenhouses

Preservation in cooling chambers

Product from several sources

Contrasting product (from the southern hemisphere)
Catalan: Pèsol
Spanish: Guisante
English: Pea
Commercial: Garden produce fruit
Scientific: Papilonàcia
Carouby de Maussane, Caputxí o estirabec, Cash, Jumbo, Tirabeque
92 calories per cada 100 grams
Grams which make up a serving
The tree it grows on and its curiosities
Pea
The main producers are India, the United States, China, France and the United Kingdom. In Spain it is grown in the regions of Zaragoza, La Rioja, Valladolid, Navarre, Murcia, Alicante, Barcelona, Tarragona, Cadiz, Castellón, and Almeria.