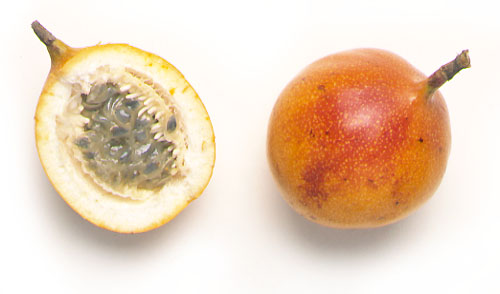 Passion fruit; Granadilla fruit
(Passiflora edulis)
a fruit of appoximately the same size as an egg, purple when ripe. The pulp is gelatinous and very juicy, with numerous greyish black seeds that are difficult to remove during consumption.
Forced growing in greenhouses

Preservation in cooling chambers

Product from several sources

Contrasting product (from the southern hemisphere)
Catalan: Magraneta
Spanish: Granadilla
English: Passion fruit; Granadilla fruit
Commercial: Tropical fruit
Scientific: Passifloràcia
80 calories per cada 100 grams
Grams which make up a serving
The tree it grows on and its curiosities
The main passion fruit plantations are in the United States (Hawaii), Brazil, Australia, new Zealand, South Africa and the Dominican Republic.