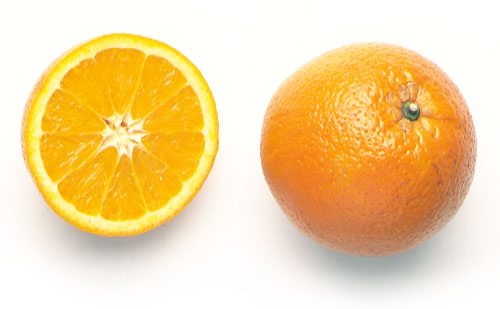 Orange
(Citrus sinensis)
a spherical fruit with an orange skin, under which there is another white skin. The pulp is also orange, and is divided into segments that contain juice and frequently, a seed.
Forced growing in greenhouses

Preservation in cooling chambers

Product from several sources

Contrasting product (from the southern hemisphere)
Catalan: Taronja
Spanish: Naranja
English: Orange
Commercial: Citrus
Scientific: Rutàcia
44 calories per cada 100 grams
Grams which make up a serving
The tree it grows on and its curiosities
Orange
The orange is currently one of the most widespread fruit trees throughout the world, and the main producers are the United States, Brazil, Spain (Valencia, Alicante, Castellón, Seville, Murcia, Almeria, Malaga, Huelva), Italy, Mexico, India, Israel, Argentina and China.