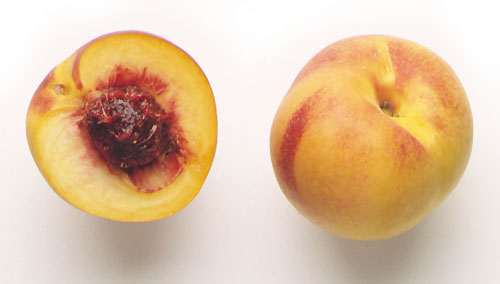 Nectarine
(Prunus persica)
a fruit that belongs to a group resembling the peach, despite looking like a plum (it has a thin, smooth and shiny skin). The nectarine's pulp is yellowish-red in some varieties and white in others. The fruit has a sweet and pleasant taste, and measures between 30 and 55 mm.
Forced growing in greenhouses

Preservation in cooling chambers

Product from several sources

Contrasting product (from the southern hemisphere)
Catalan: Nectarina
Spanish: Nectarina
English: Nectarine
Commercial: Pipped fruit
Scientific: Rosàcia
Big Top, Fantasia, Snowqueen
50 calories per cada 100 grams
Grams which make up a serving
The tree it grows on and its curiosities
peach tree
The main areas of production are China, Italy, the United States, Spain and Greece.