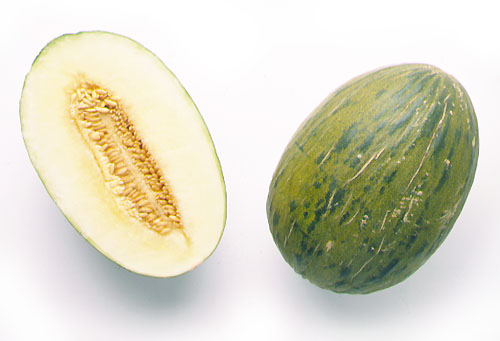 Melon
(Cucumis melo)
a long fruit, shaped like a rugby ball, or a round one, depending on the variety. The skin ranges from green to various shades of yellow, also depending on the variety. The pulp is compact, sweet and very juicy. There are many orangish seeds at the centre that are not eaten.
Forced growing in greenhouses

Preservation in cooling chambers

Product from several sources

Contrasting product (from the southern hemisphere)
Catalan: Meló
Spanish: Melón
English: Melon
Commercial: Other fruits
Scientific: Cucurbitàcia
Yellow (round: Yellow gold, Moncayo; Long: Yellow Canarian, Yellow Donal), Small (Galia: Gredos, Yuma; Cantalup), Green ( Rochet: Categoria, Futuro, Primerizo Verde; Piel de Sapo: Bardino, Braco, Pinyonet), Late Fruit (Tendral: Tendral Negro)
31 calories per cada 100 grams
Grams which make up a serving
The tree it grows on and its curiosities
Melon tree
The leading melon-producing countries are Italy, Japan, Egypt, China, the United States, France, Mexico and Spain (Ciudad Real, Murcia, Almeria, Toledo, Badajoz, Valencia, Cadiz, Cordoba, Huelva, Seville).