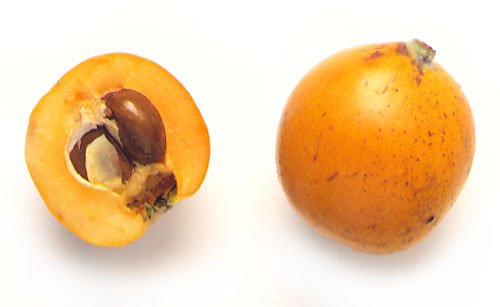 Medlar
(Mespilus germanica)
an oval fruit, orangish or yellowish in colour. Its skin is shiny, compact and strong, but is easily removed when pulled from the peduncle. Its flesh is very tasty. The medlar has one or more large shiny brown seeds that may take up as much as 45% of the fruit's volume.
Forced growing in greenhouses

Preservation in cooling chambers

Product from several sources

Contrasting product (from the southern hemisphere)
Catalan: Nespra
Spanish: Níspero
English: Medlar
Commercial: Seeded fruit
Scientific: Rosàcia
97 calories per cada 100 grams
Grams which make up a serving
The tree it grows on and its curiosities
Medlar
The main areas of production are China, Japan, India, Pakistan, Madagascar, Mediterranean countries (Turkey, Italy, Greece, Israel), the United States, Brazil and Venezuela. In Spain, the main areas of cultivation are Alicante, Malaga, Valencia, Granada and Castellón.