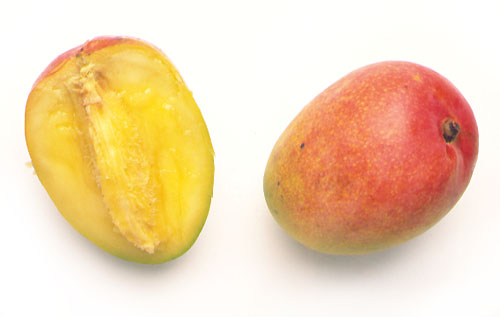 Mangos
(Mangifera indica)
a kidney-shaped fruit that weighs between 200 g and 2 Kg. Its skin is yellow with dark green and yellowish spots and is woody in texture. The mango is highly aromatic when ripe. The seeds inside are of various sizes, depending on the variety. The pulp is yellowish, juicy, soft and refreshing.
Forced growing in greenhouses

Preservation in cooling chambers

Product from several sources

Contrasting product (from the southern hemisphere)
Catalan: Mango
Spanish: Mango
English: Mangos
Commercial: Tropical fruit
Scientific: Anacardiàcia
56 calories per cada 100 grams
Grams which make up a serving
The tree it grows on and its curiosities
Mango
The Spanish and Portuguese expanded cultivation of the mango to their colonies in Africa and America, and it is today a very common fruit in all tropical areas. In recent years its cultivation has been extended to the United States (Florida and Hawaii), Australia, Israel, Spain (the Canary Islands and Andalucia) and Portugal (Madeira). The leading producers are India, Mexico, Brazil, Pakistan, Thailand, China, Indonesia and the Philippines.