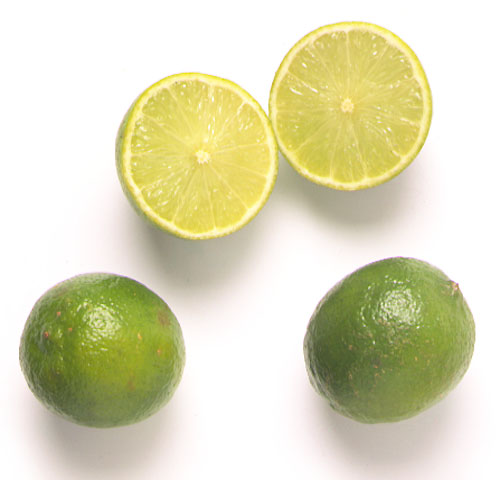 Lime; Sweetlime
(Citrus aurantiifolia)
A citrus fruit similar in appearance to the lemon, with a slightly acid taste. A medium-sized oval fruit, which is yellowish-green in colour and becomes an intense yellow when bruised. The pulp is yellowish, and divided into segments with pips; it is more juicy, aromatic and milder than the lemon. Its juice content is also almost double that of the lemon.
Forced growing in greenhouses

Preservation in cooling chambers

Product from several sources

Contrasting product (from the southern hemisphere)
Catalan: Llima
Spanish: Lima
English: Lime; Sweetlime
Commercial: Tropical fruit
Scientific: Rutàcia
Calamadí o de Mesc, Sweet, Kaffir o Sambal, Persian o Tahitian
30 calories per cada 100 grams
Grams which make up a serving
The tree it grows on and its curiosities
Sweetlime tree
The most important lime plantations are in the United States (Florida), Mexico, the West Indies and Australia. The leading producers are Mexico, the United States, Brazil, Egypt and India.