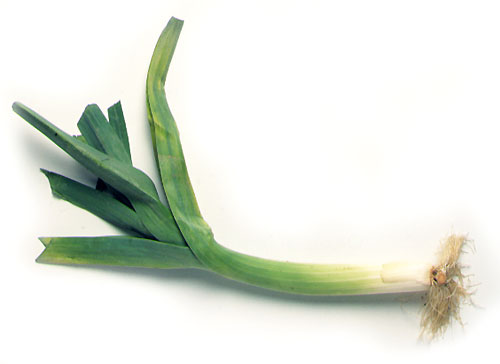 Leek
(Allium porrum)
a bulb from the same family as garlic and the onion, with a bulbous root. It is around 50 centimetres high and 3 or 4 centimetres thick. The leaves, which range from white to dark green, and the white bulb, have a similar taste to the onion, but much milder and more delicate.
Forced growing in greenhouses

Preservation in cooling chambers

Product from several sources

Contrasting product (from the southern hemisphere)
Catalan: Porro
Spanish: Puerro
English: Leek
Commercial: Bulb garden produce
Scientific: Liliàcia
42 calories per cada 100 grams
Grams which make up a serving
The tree it grows on and its curiosities
Leek
This is an important crop in many countries, including France, Great Britain, Spain (La Rioja, Badajoz, Barcelona, Vizcaya, Guipuzcoa, Toledo, Burgos, Navarre, Cadiz, Alava), Belgium, Denmark and Holland.