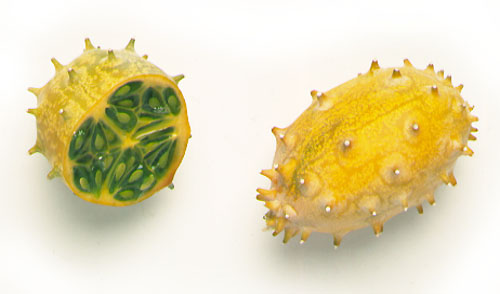 KIWANO
(Cucumis metuliferus)
a 10 cm-long oval fruit. Its skin may be yellow or orange depending on its ripeness, and is covered with very sharp small thick thorns, that can be easily found when the fruit is ripe. Inside, there is a gelatinous pulp with green seeds, like the cucumber.
Forced growing in greenhouses

Preservation in cooling chambers

Product from several sources

Contrasting product (from the southern hemisphere)
Catalan: Kiwano
Spanish: Kiwano
English: KIWANO
Commercial: Tropical fruit
Scientific: Cucurbitàcia
22 calories per cada 100 grams
Grams which make up a serving
The tree it grows on and its curiosities
The kiwano grows wild, although not abundantly, in Southern Africa (Botswana, Namibia, Zimbabwe and Nigeria). It is grown extensively in Australia, New Zealand, tropical Africa and some areas of Europe and the United States.The first commercial plantations were in New Zealand, where it was given the name of kiwano. New Zealand is the world's leading producer.