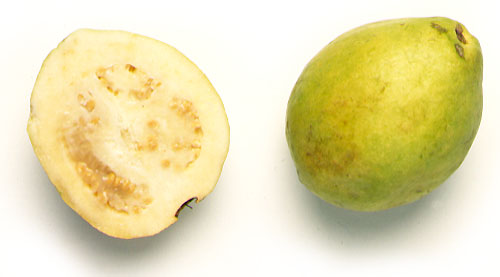 Guava
(Psidium guajava)
Oval-shaped fruit, the diameter of which is 3 to 10 cms and yellowish in colour when ripe. The guava's skin can be smooth or rough, depending on the variety, and is between green and yellow in colour, depending on the species and ripening stage. The flesh can be white or pink, also depending on the variety. The texture of this fruit is butter-like and it contains plenty of seeds.
Forced growing in greenhouses

Preservation in cooling chambers

Product from several sources

Contrasting product (from the southern hemisphere)
Catalan: Guaiaba
Spanish: Guayaba
English: Guava
Commercial: Tropical fruit
Scientific: Mirtàcia
50 calories per cada 100 grams
The tree it grows on and its curiosities
Guava tree
Guava cultivation is found in tropical zones, especially Central and South America. It is also common in the United States (Florida) and southern Europe (the Mediterranean Coast ).