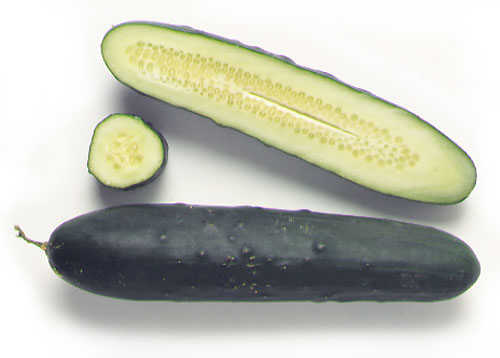 Cucumber
(Cucumis sativus)
Enlongated vegetable, about 15 cm long by 5 cm in diameter. The outside is green and the flesh is yellowish with plenty of edible seeds.
Forced growing in greenhouses

Preservation in cooling chambers

Product from several sources

Contrasting product (from the southern hemisphere)
Catalan: Cogombre
Spanish: Pepino
English: Cucumber
Commercial: Garden produce fruit
Scientific: Cucurbitàcia
Cogombrets, Híbrid Bellando, Harmoni, Híbrid Marianna, Francès, Marketmore, Raider, Regal, Royal, Wisconsin
12 calories per cada 100 grams
Grams which make up a serving
The tree it grows on and its curiosities
Cucumber
In Spain it is cultivated in Almeria, Las Palmas, Málaga, Valencia, Múrcia, Granada, Barcelona, Cádiz, Toledo, Castellón.