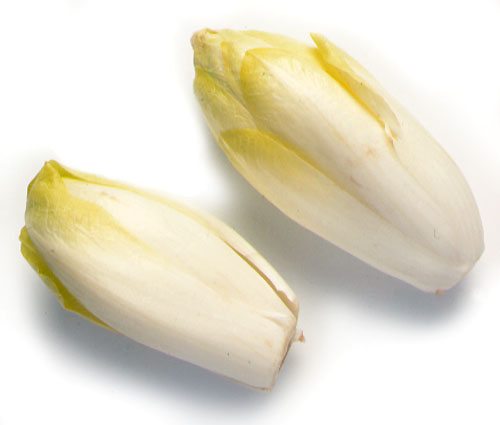 Chicory
(Cichorium intybus)
Chicory is cylindrically-shaped and composed of a set of leaves overlapping each other. It is whitish yellow and approximately 8-9 cms long and 2.5 cms in diameter.
Forced growing in greenhouses

Preservation in cooling chambers

Product from several sources

Contrasting product (from the southern hemisphere)
Catalan: Endívia
Spanish: Endibia
English: Chicory
Commercial: Stalked garden produce
Scientific: Compositàcia
22 calories per cada 100 grams
Grams which make up a serving
The tree it grows on and its curiosities
Chicory
The main growing countries are Holland, Bèlgica, France i Germany . In Spain it is cultivated in Valladolid, Valencia, Segóvia, Castellón, Múrcia.