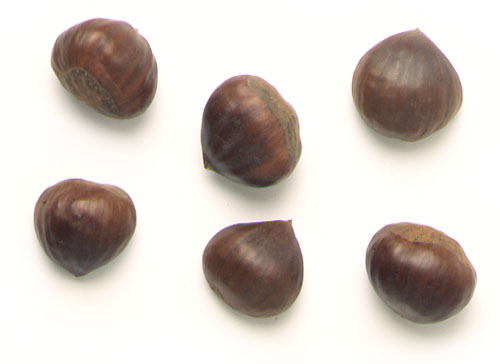 Chestnut
(Castanea sativa)
Fruit of the chesnut tree. They grow together in groups of up to 3 and are to be found inside a thorny husk. The chestnut itself has a rounded heart shape, it is light brown and the husk is dark brown.
Forced growing in greenhouses

Preservation in cooling chambers

Product from several sources

Contrasting product (from the southern hemisphere)
Catalan: Castanya
Spanish: Castaña
English: Chestnut
Commercial: Nuts and dried fruit
Scientific: Fagàcia
199 calories per cada 100 grams
Grams which make up a serving
The tree it grows on and its curiosities
Chestnut tree
The main growing countries are China, Korea, Italy, France, Turkey, Spain (Lugo, León , Orense, Huelva, Cáceres, Málaga, La Coruña) and Greece.