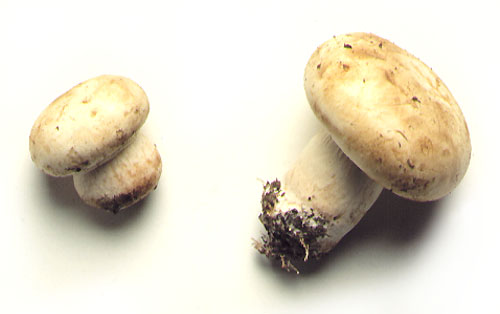 Champignon
(Agaricus bisporus)
This is the most consumed and most popular mushroom. It is pleasing to the eye, and has a splendid white colour. It has three parts – the cap, the stem and the gills. It has little nutritional value. The flesh is white and turns orangish when cut.
Forced growing in greenhouses

Preservation in cooling chambers

Product from several sources

Contrasting product (from the southern hemisphere)
Catalan: Xampinyó
Spanish: Champiñón
English: Champignon
Mushrooms or Aromatic herbs
Commercial: Mushroom
Scientific: Agaricàcia
28 calories per cada 100 grams
Grams which make up a serving
The tree it grows on and its curiosities
Mushroom
The main mushroom producers are China, the United States and the Netherlands. In Spain, the mushroom is grown in Cuenca, La Rioja, Albacete, Tarragona, Barcelona, Navarre and Valencia.