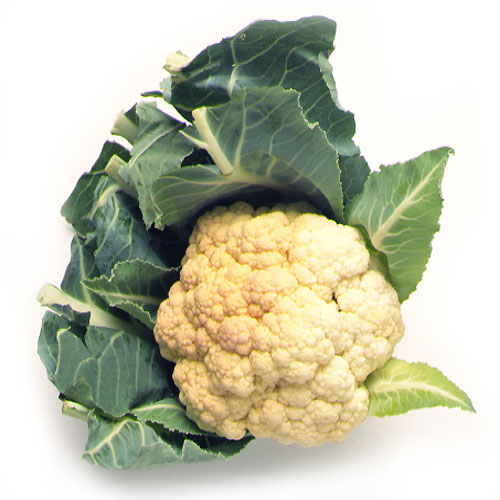 Cauliflower
(Brassica oleracea var. botrytis)
Spherical whitish inflorescence, wrapped in leaves which are more or less green. The average size of the cauliflower is approximately 40 cm in diameter.
Forced growing in greenhouses

Preservation in cooling chambers

Product from several sources

Contrasting product (from the southern hemisphere)
Catalan: Coliflor
Spanish: Coliflor
English: Cauliflower
Commercial: Inflorescent garden produce
Scientific: Crucífera
Diplomat, Híbrid Freemon, Síria
30 calories per cada 100 grams
Grams which make up a serving
The tree it grows on and its curiosities
Coliflor
The main growers of cauliflower are India, China, Italy and France. In Spain it is cultivated in La Rioja, Navarra, Barcelona, Valencia, Madrid, Múrcia, Toledo, Cádiz, Castellón, Seville, Granada.