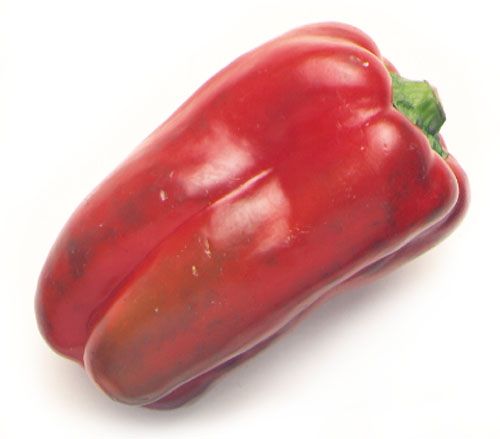 Capsicum
(Capsicum annuum)
a fruit of various colours, according to its ripeness. It is between 5 and 8 cm in diameter and between 8 and 15 cm long.
Forced growing in greenhouses

Preservation in cooling chambers

Product from several sources

Contrasting product (from the southern hemisphere)
Catalan: Pebrot
Spanish: Pimiento
English: Capsicum
Commercial: Garden produce fruit
Scientific: Solanàcia
Large o Rectangular (De Reus), Italian (Dolç Italià Itàlic), Morro de bou (Morrón), Padrón, Piquillo, Square (Meravella de Califòrnia, Salsa, Sitaki)
22 calories per cada 100 grams
Grams which make up a serving
The tree it grows on and its curiosities
The main producers are China, Turkey, Mexico, Nigeria, Spain (Almeria, Murcia, Alicante, Cadiz, Valencia, Malaga, Granada, the Balearic Islands, Huelva, Ciudad Real, Las Palmas, and Caceres) and the United States.