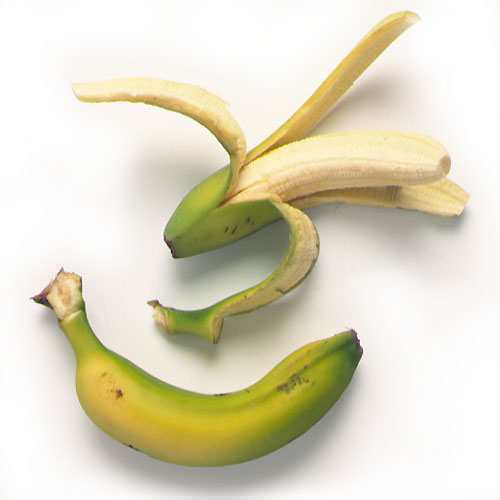 Banana
(Musa acuminata)
a long fruit with green skin that turns yellow with black points when ripe. It has a soft, white compact pulp, its taste is mild, but sweet and pleasant, and low in acid. The imported banana is bigger and not as tasty as the Canary Islands variety.
Forced growing in greenhouses

Preservation in cooling chambers

Product from several sources

Contrasting product (from the southern hemisphere)
Catalan: Plàtan
Spanish: Plátano
English: Banana
Commercial: Tropical fruit
Scientific: Musàcia
90 calories per cada 100 grams
Grams which make up a serving
150 grams (una peça mitjana)
The tree it grows on and its curiosities
Banana
The main banana-producing countries are India, Brazil, the Philippines, Ecuador, Indonesia, China, Thailand, Burundi, Costa Rica, Tanzania and Colombia. In Spain, it is cultivated in Las Palmas and Santa Cruz de Tenerife.