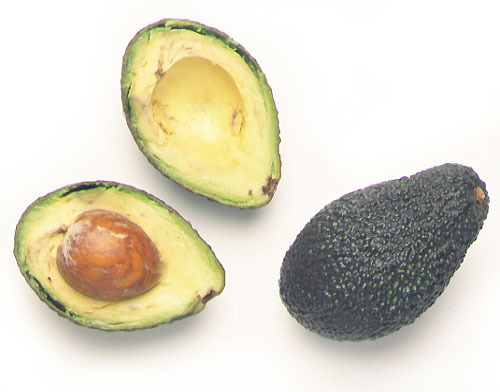 Avocado pear
(Persea americana)
Oval fruit. It has a thick, fairly rough skin and is bright green or black, although shade and texture varies depending on variety. The flesh is creamy and compact and has a yellowish white colour. Inside it has a big brown seed. The avocado weights between 200 and 400 grammes.
Forced growing in greenhouses

Preservation in cooling chambers

Product from several sources

Contrasting product (from the southern hemisphere)
Catalan: Alvocat
Spanish: Aguacate
English: Avocado pear
Commercial: Tropical fruit
Scientific: Lauràcia
207 calories per cada 100 grams
Grams which make up a serving
The tree it grows on and its curiosities
Avocado tree
Nowadays there are large plantations on all five continents, the largest growers being Mexico, The United States (California and Florida), Santo Domingo, Brazil , Indonesia, South Africa, Israel and Spain (Granada, Málaga, Santa Cruz de Tenerife, Las Palmas, Cádiz).