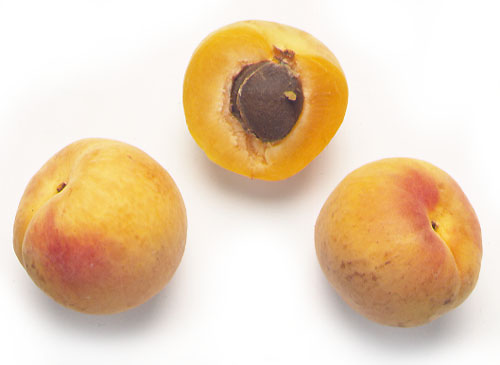 Apricot
(Armeniaca vulgaris)
An almost spherical fruit of yellow-orange colour. The skin is soft and velvety to the touch. The seed is brown and almond-shaped. The diameter is from 3 or 4 cm.
Forced growing in greenhouses

Preservation in cooling chambers

Product from several sources

Contrasting product (from the southern hemisphere)
Catalan: Albercoc
Spanish: Albaricoque
English: Apricot
Commercial: Pipped fruit
Scientific: Rosàcia
Canino, Corbato, Galta Roja, Moniqui, Tadeo, Ginesta, Mauricio
44 calories per cada 100 grams
Grams which make up a serving
The tree it grows on and its curiosities
Apricot tree
Nowadays, it is cultivated in all warm areas free from spring frosts. The main growing countries are Turkey, Spain (Múrcia, Valencia, Albacete, Zaragoza, The Balearic Islands, Alicante, Málaga, Castellón), Italy, Greece, France and the United States.