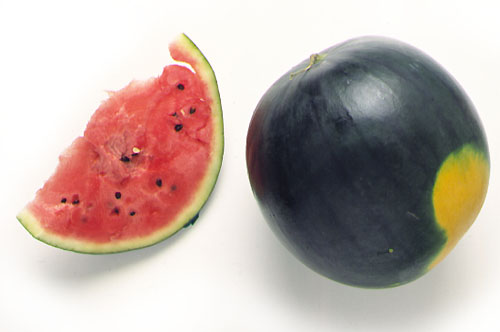 Watermelon
(Citrullus lanatus)
a large spherical fruit, with flattened ends. Its green skin, which may be more or less dark, depending on the variety, is smooth, very thick and hard. The pulp is red and has a porous texture, is very juicy and is nearly always very sweet, and contains many black, brown or white seeds. However, seedless varieties have been cultivated and marketed for some years.
Forced growing in greenhouses

Preservation in cooling chambers

Product from several sources

Contrasting product (from the southern hemisphere)
Catalan: Síndria
Spanish: Sandía
English: Watermelon
Commercial: Other fruits
Scientific: Cucurbitàcia
30 calories per cada 100 grams
Grams which make up a serving
The tree it grows on and its curiosities
Watermelon tree
The watermelon is today one of the most widespread fruit in the world, and the main producers are Turkey, China, Japan, Italy, Greece and Spain (Almeria, Valencia, Seville, Cordoba, Huelva, Caceres, Toledo, Cadiz, the Balearic Islands, Granada).