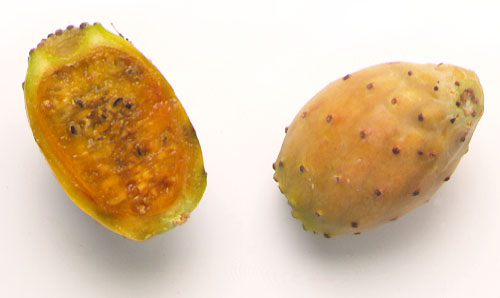 Pricky pear; Indian fig; Barbary fig
(Opuntia ficus-indica)
Fruit the size of a goose egg. This fruit has to be handled very carefully because of the tiny prickles on the skin. Depending on the variety, they can be rounded or enlongated, green, yellow or orange inside. The flesh is granulated, both sweet and bitter at the same time, juicy and refreshing, with a gelatinous consistency sprinkled with small seeds. It is similar in aroma to the pear or the watermelon.
Forced growing in greenhouses

Preservation in cooling chambers

Product from several sources

Contrasting product (from the southern hemisphere)
Catalan: Figa de moro
Spanish: Higo chumbo
English: Pricky pear; Indian fig; Barbary fig
Commercial: Other fruits
Scientific: Cactàcia
The tree it grows on and its curiosities
Prickly pear tree
Nowadays, these can be found in America and Africa, but can also be found growing wild throughout the Mediterranean.