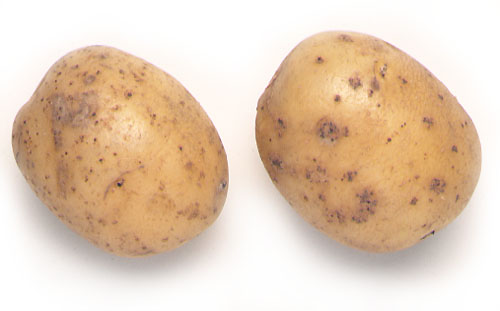 Potatoe
(Salanum tuberosum)
an irregularly-shaped tuber, normally long and rounded. It is the world's most consumed food.
Forced growing in greenhouses

Preservation in cooling chambers

Product from several sources

Contrasting product (from the southern hemisphere)
Catalan: Patata
Spanish: Patata
English: Potatoe
Commercial: Tubercle
Scientific: Solanàcia
Baraka, Bintje, Desirée, Jaeria, Kennebeck, Monalisa, Red Pontiac, Scort, Spunta
86 calories cada 100 grams
Grams which make up a serving
The tree it grows on and its curiosities
Potato
The main potato producers are China, Russia, Poland and India. In Spain, it is grown in the regions of Malaga, Valencia, Santa Cruz de Tenerife, Murcia, Barcelona, Granada, Seville and La Coruña, among others.