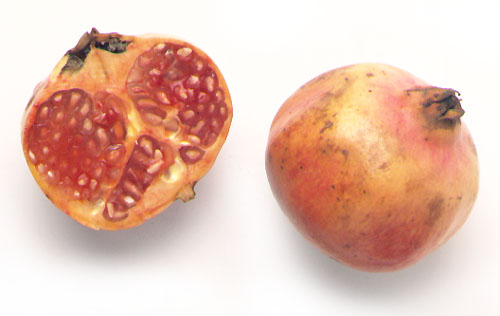 Pomegranate
(Punica granatum)
A round fruit, the same size as an apple and with a tough, thick skin of around 5 mm, ranging from brown to yellowish in colour. Its withered calyx gives it an onion shape. Its white seeds, which have a bittersweet taste, are eaten with the yellow pulp surrounding them.
Forced growing in greenhouses

Preservation in cooling chambers

Product from several sources

Contrasting product (from the southern hemisphere)
Catalan: Magrana
Spanish: Granada
English: Pomegranate
Commercial: Other fruits
Scientific: Mirtàcia
32 calories per cada 100 grams
Grams which make up a serving
The tree it grows on and its curiosities
Pomegranate
Today, the pomegranate is growin in Turkey, Afghanistan, Spain, Italy and Saudi Arabia.