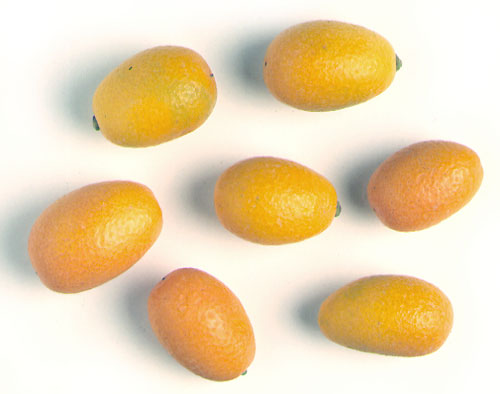 Cumquat; Kumquat
(Fortunella sp)
a small oval or round fruit, depending on the variety. Its yellow-orange skin is smooth and very shiny. The pulp is yellow and juicy inside, with a number of small cavities which contain an acidic juice (which is occasionally sweet) and highly aromatic.
Forced growing in greenhouses

Preservation in cooling chambers

Product from several sources

Contrasting product (from the southern hemisphere)
Catalan: Kumquat
Spanish: Kumquat
English: Cumquat; Kumquat
Commercial: Tropical fruit
Scientific: Rutàcia
64 calories per cada 100 grams
The tree it grows on and its curiosities
Since classical times, kumquats have been grown in China, Japan and the Philippines. Today, they are also grown in Morocco, Israel, Brazil, the United States, Australia and Spain.