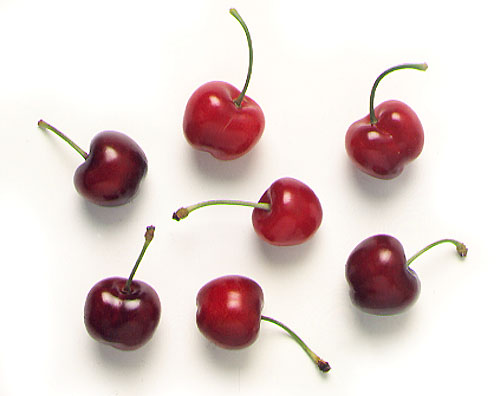 Cherry
(Cerasus avium)
Fruit of colour ranging from redish yellow to deep red. Its flesh is pink or whitish and it has a sweet taste. The form of this fruit greatly depends on the variety. It usually comes with the penduncle and its diameter ranges from about 1.5 to 2 cm. Of the varieties of this fruit, 900 have a sweet taste and 300 are sour.
Forced growing in greenhouses

Preservation in cooling chambers

Product from several sources

Contrasting product (from the southern hemisphere)
Catalan: Cirera
Spanish: Cereza
English: Cherry
Commercial: Pipped fruit
Scientific: Rosàcia
Bing, Burlat, Cristobalina, Cua Llarga, Napoleon, Picota (Vermella, Negra), Prime Giant, Ruby, Stark-Hardy, Summit, Sunburst, Sweetheart, Van
77 calories per cada 100 grams
Grams which make up a serving
The tree it grows on and its curiosities
Cherry tree
The main growing countries of the cherry are the United States, Germany , Italy, France, Hungary and Spain (Zaragoza, Cáceres, Barcelona, Castellón, Alicante, Rioja, Salamanca, Granada, Jaén, León ).